Versions

Comfortline, Canyon, Dark Label, Highline

Motor

2.0 TDI (Bi-Turbo), 4Motion optional

Transmission

Automatic

Horsepower

140, 180 Hp
100 % pickup. 100 % premium.

Uncompromising off-road. Spirited on the asphalt. The new Amarok combines everything that you expect from an exclusive, premium-class all-rounder: a masculine design and robust construction along with plenty of power.
Built for maximum driving pleasure
Asphalt, earth, gravel. In the new Amarok you will experience the pinnacle of exclusive driving comfort on almost any terrain. It combines high ground clearance with the best body stability along with the proven 4MOTION all-wheel drive. The result: traction in virtually every situation, even with high tensile loads and payloads.
Outstanding in extreme conditions.
The new Amarok's wide wheelbase and increased ground clearance mean it can handle even extreme angles, gradients and slopes.
Mastering the rough and smooth.
The outstanding off-road ABS as well as the Hill Descent Assist ensure high safety across all terrains. Optional robust underride guard packages protect the fuel tank against stones and branches on the ground.
The widest load platform in its class.
No other pick-up provides so much space between the wheel housings. The loading width of 1,222 mm even enables Euro pallets to be loaded crosswise. The spacious, 2.52m² cargo box features some impressive dimensions – such as the 508 mm high side panels and the low loading sill height of 780 mm.
Most spacious feeling in its class
The new Amarok's interior boasts plenty of space and numerous storage options, including storage on the dash panel, spacious compartments under the front seats and four cup holders. Countless extras ensure a comfortable drive and safe journey.
Air conditioning and heating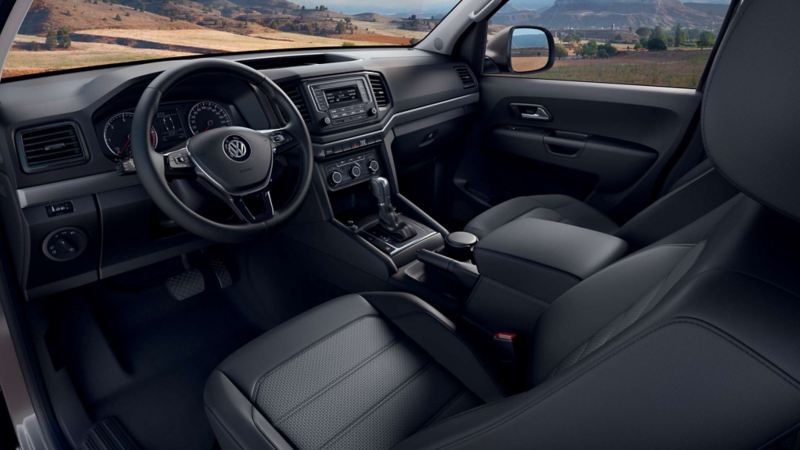 Enjoy a comfortable interior climate.
So that you always keep a cool head: Intelligent sensors continuously adapt the temperature in the new Amarok to maintain your comfort.

"Climatronic" air conditioning.
This system offers 2-zone temperature control for the driver and front passenger, manual air recirculation and an air quality sensor. Depending on the intensity of the sun's rays and the outside temperature, the air conditioning adds more or less cool air accordingly.

"Climatic" air conditioning (not illustrated).
This semi-automatic air conditioning system has an interior sensor, and constantly compares the interior temperature with the desired temperature in the vehicle.
Auxiliary water heater (not illustrated).
It enables you to pre-heat the engine while also heating up the interior quicker or pre-heating it before you get in. The control unit is built into the roof console. Of course, you can also activate and deactivate the auxiliary water heater using the handy remote control.
Modern infotainment systems
Stay well entertained and connected.
Keeping you well entertained and connected while on the move: Enjoy the high-quality radio systems and smart mobile online services such as App-Connect.